Self check-in with Keesy!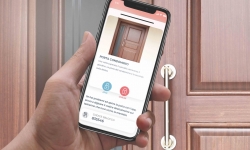 The property is equipped with a self-check-in and smart access system called 
Keesy
.
Thanks to this service you can check-in online comfortably from home and use the Keesy app to open the door!
You need just to install the Keesy app on your smartphone and come and go as you please!
Thanks to this service you can do the online check-in from home and use the Keesy app on your smartphone to access the property at your arrival in Alghero!
You will receive an email/SMS from Keesy with the link to download the app (called Keesy) and your Keesy code.
You need the app to check-in and access the facility.

KEESY APP:
Download the app> enter your phone number> check your text messages and enter the 4-digit pin in the app> follow the instructions to start the check-in.
On the app, you can check-in, get your digital keys and all the information about the accommodation.
CHECK-IN:
Each guest has to check in, entering his data and a valid identity document. You can decide whether to do it together or independently on your phone, using the "share" function. If you need to make payments, remember to have your credit card ready.
Make sure to complete the online check-in before your arrival; if you don't complete it, you won't be able to access the property.
YOUR STAY:
The property is located at the address: Via Santa Barbara 20, Alghero.
I remind you that check-in starts at 13:00 and can be done until midnight. Please inform us in advance in case of need after this time.
When you arrive, simply open the Keesy app and press the key icon to view all the access doors.
Make sure your smartphone is charged when you arrive at the property.
Check-out is within -10:00-.
For all your needs, feel free to contact me at the number: +39 391 156 5792.
If you need more information, we are always available!